NEWS
---
Buy your tickets NOW for the

RESCHEDULED to Nov. 8th - 2020 Annual Meeting & Picnic Lunch

RESCHEDULED DUE TO TOWN MEETING: Join us Sunday November 8, 2020 from 12 noon to 1:00 pm at the Community Barn Picnic Grove, 37 Wheeler Rd, Grafton, MA for the Grafton Land Trust Annual Meeting, with lunch, a brief review of accomplishments, and an easy hike. We are using the rain date of Nov. 8th because Town Meeting moved from Oct. 31 to Nov. 7 due to the snow storm.
Tickets can be purchased securely online (click here), or by mailing a check to us. You are OK if you already bought tickets for Nov. 7 (Click here for more info) Get your tickets today!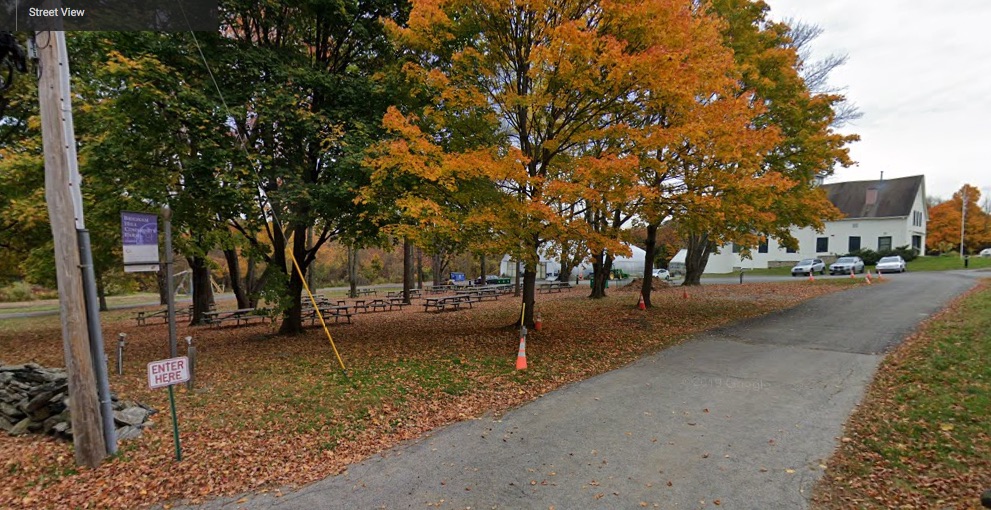 ---
WIN 2 pairs of snowshoes! at the

2020 Snowshoe Raffle at the GLT Annual Meeting & Picnic

Do a snow dance! Win TWO PAIRS of L.L. Bean Winter Walker snowshoes, sizes 26 and 30 (can be exchanged). Tickets are $5 each, or 5 for $20. We'll draw the winning ticket at our Annual Meeting on Nov. 8th (NOTE NEW DATE!); you do not need to be present to win. All proceeds to benefit the Grafton Land Trust. To buy raffle tickets, go online: click here.
---
Trailforks Training PowerPoint Thanks to GLT volunteer Kricky Remillard, you can now download a PowerPoint slide deck and see how to use the free Trailforks app and website to learn, navigate, record, report, and even maintain Grafton's trails. Download the PowerPoint Presentation now and have a look. Then get out for a hike and give it a try! (Or get the PDF version here)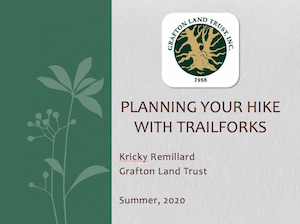 ---
DONATIONS If you're looking to support Grafton Land Trust in your name or in remembrance of someone else, all it takes is a few clicks online, or mail in a check. Your tax deductible donation can go for improvements and maintenance for our existing 908 acres under protection, or towards new acquisitions via our GREEN GRAFTON FUND. Click here to make a donation! If you do it before the end of the year, you can enter it as charitable giving in your tax return via our 501(c)(3) charity EIN.

---
ONLINE MAPS: GLT now on Trailforks Visit Trailforks.com and install the FREE app on your phone to access 300+ trails in Grafton, and zillions more all around the world. Learn the trails quickly - never get lost again! More info on our maps page.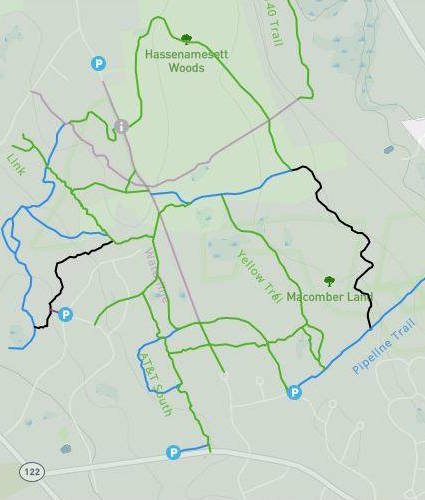 ---
Drone Flight through the Storybook Trail on the Williams Preserve (flight: March 2018)
---