Conservation in Your Own Back Yard
Control Invasive Species
Plant Native Plants
Reading
Coming: Get in an outdoor mood and mindset - we've teamed up with the Grafton Public Library to make many of these books available. They can also be checked out from online libraries or purchased!
Wildlife Tracking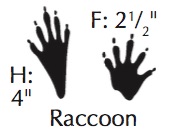 Download and print this ACTUAL SIZE animal track PDF from Minnesota - great fun for little ones to see the size of animal feet/hooves!
Here's a nice picture-book style track identifier with a picture of each animal
Print this handy wildlife tracks ID card from the Mass Dept of Fish & Wildlife to identify wildlife from their tracks - best used out in fields and on trails right after a fresh snow!
This in-depth guide gets you past the introductory level and onto more detailed aspects of identifying wildlife tracks.
Geocaching
(Volunteer to write up this activity!)