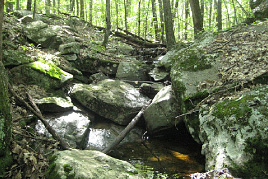 If you are a land owner and desire to help us with our mission of preserving land for future generations, there are several options for you.
You can donate your land directly to the GLT. Bound by our trust mission, we will preserve the land as open space and manage all aspects of its use, such as trail development, trail maintenance, and general management of the property.
You can establish a Conservation Restriction (CR) and name the GLT as the holder of the restriction. This allows ownership to remain in the hands of you and your family while ensuring that limitations on development are legally enforced in perpetuity. You can determine the conditions of the restriction - allowing certain activities like agriculture, forest management, or hunting while limiting others like the construction of roads or structures. The conditions of public access would also be specified in the CR.
Both of these options represent a gift of value to a non-profit organization. If approved by the state, this gift may have a significant tax benefit.
Our most important goal is to provide you with accurate information about conservation options. Please do not hesitate to contact the GLT for more information.