SUCCESS! THANK YOU for your help voting for Open Space
Monday May 13, 2019 @ 7:00 pm
Grafton High School Auditorium
Warrant Article 12 funding for Open Space - SPECIAL Town Meeting
Grafton residents voted to approve Warrant Article 12, "CPC Purchase of Robinson Properties" at the SPECIAL Town Meeting May 13, 2019 at 7:00 pm in the Grafton High School auditorium, which started 30 minutes before the Annual Town Meeting. A 2/3 majority was required to approve this land purchase. Funding came from existing account balances for Community Preservation, which are legally restricted to be used only for open space recreation, historic preservation, and affordable housing.
Figure: Streams on the properties flow into Miscoe Brook (click a pic for full size)

Project Summary
Four Robinson properties are coming out of Chapter 61B on the corner of Stowe Rd and Route 140. The town wishes to exercise its right of first refusal to acquire the land and needs voter approval for funding to purchase land. This action would permanently conserve 10+ acres near Silver Lake. The four parcels are: 2 Stowe Rd., and 163, 165, and 171 Upton St. Funding would be provided ENTIRELY by existing Community Preservation Act funds collected in past years, so NO NEW TAXES would be required.
The Grafton Land Trust board has voted and approved to take on the responsibility to accept and hold a Conservation Restriction (easement/lien) on the property from the Town of Grafton if the article passes. This will create permanent restriction in accordance with M.G.L. 44B Section 12a to prevent the land from later being sold for non-conservation purposes.
Figure: Town GIS view of the Robinson 61B parcels up for sale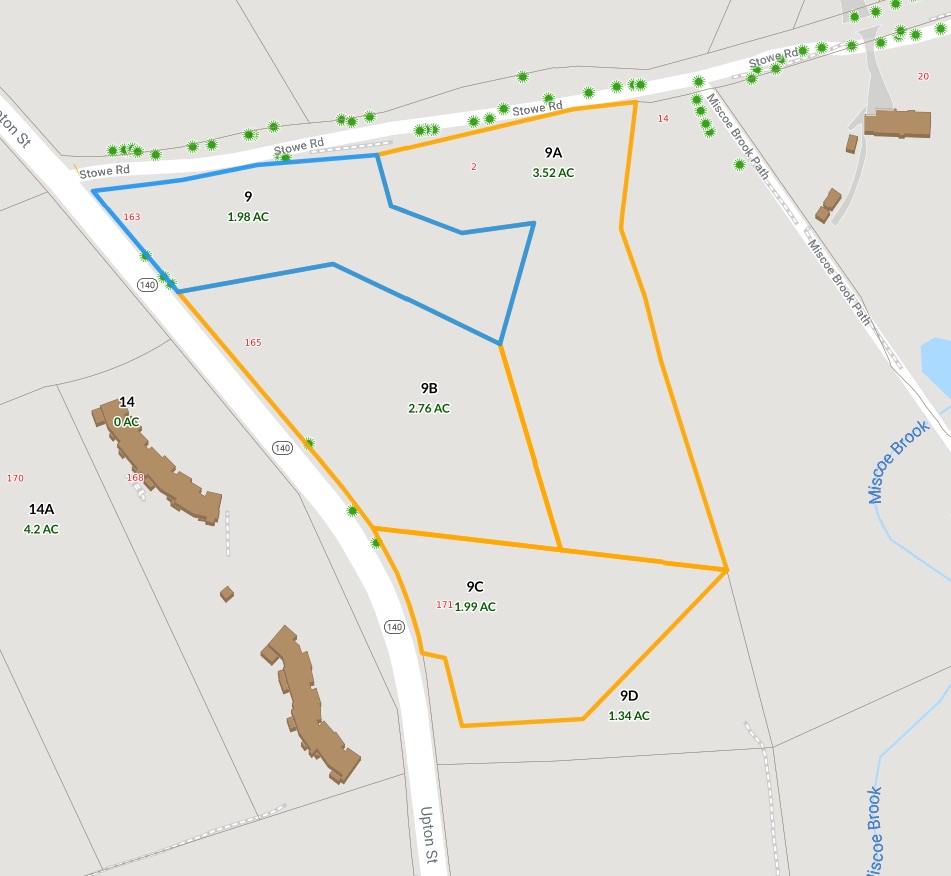 The reasons that the Land Trust recommends that these properties should be preserved are twofold: keeping water clean and following the Silver Lake conservation strategy.
Clean Water: A Clean Silver Lake Helps Keep Clean Drinking Water
There are two streams on this property that feed into Miscoe Brook that in turn flows into Silver Lake. If houses are built on these lots, they would add more fertilizer, lawn chemicals, and septic load to the lake and downstream to Miscoe Brook.
Beyond Silver Lake, these waters flow into Miscoe Brook, Wildwood Lake, and then on to drinking water wellfields. They are part of the sate's 8700 acre Area of Critical Environmental Concern (ACEC). The state's report on this ACEC (LINK) includes sections on pages 3 and 13 that talk about fish and game habitat, including native brook trout and other wildlife and resources that depend on clean water in this area. From page 3: "The Miscoe Brook watershed contains a large, unique and valuable wetlands complex, the Great Meadow system, and the water quality of both Miscoe and Warren Brooks supports prized native brook trout populations." There is more information about wildlife on page 13.
This land currently provides a buffer to protect the waters from picking up additional chemicals and bacteria. Silver Lake has to be actively managed to fight off E. Coli bacteria, blue-green algae blooms, and weeds in the summer that grow due to existing chemical loads flowing in.
Grafton enjoys clean water at Silver Lake Beach relative to other towns that have to periodically close their beaches. This article in the Telegram & Gazette from 2012 sums it up well (link to article):
"Erin Reyes of South Grafton, who sat in a shady spot on shore with her husband, Jose Reyes, and 3-year-old son Aidan, while 5-year-old Colby paddled in the beach's shallow section, said, 'The water's always clean every time we come here.'"
The situation is different in other towns:
"'We live in Mendon but we don't go to the Mendon beach because we like the water quality here instead,' Mrs. Baumgarten said. 'It's (the Mendon beach) often closed because of water quality. It's always open here. It smells fine and there aren't things floating in it.'"
The Massachusetts Freshwater Beaches Water Quality Report for 2017 shows that Grafton currently does well where other towns struggle: LINK
CONCLUSION: if we get to the point where we have to worry about things floating in Silver Lake, we will have missed our opportunity to protect it.
Silver Lake Conservation Strategy
The main strategy in place since 2007 is to gradually acquire the parcels surrounding Silver Lake as they come up for sale.
Figure: Locus view of Silver Lake parcels from the Town GIS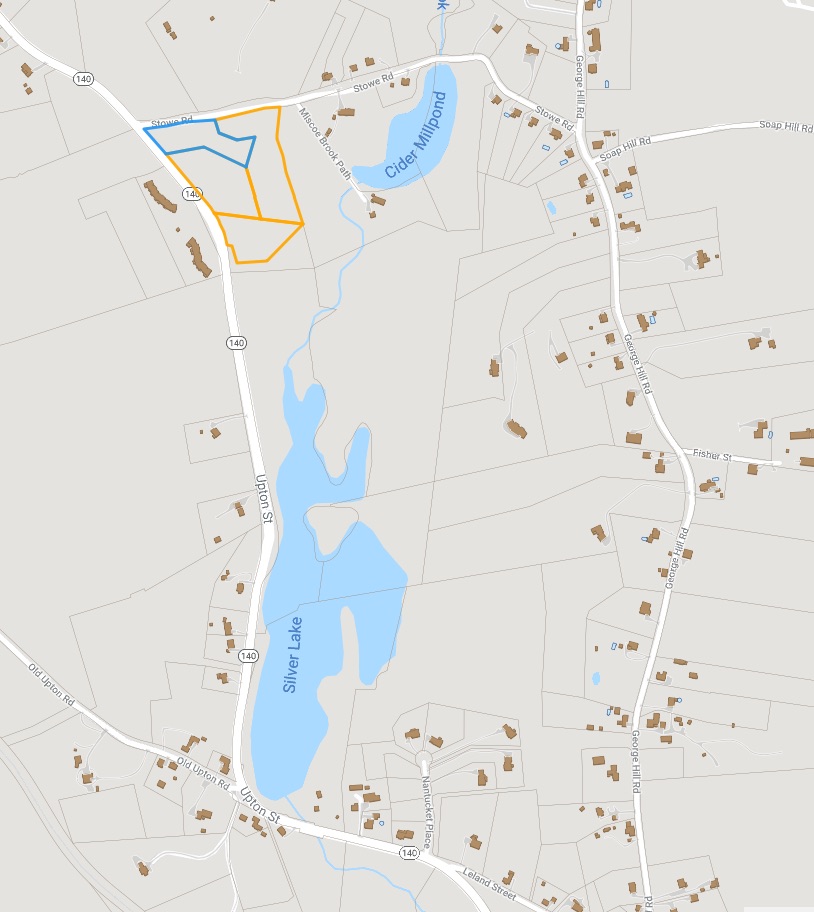 Some people in town have noted that these parcels do not abut to other open space properties, and they are correct: TODAY they do not connect. However, they are part of the larger strategy to secure the shoreline of Silver Lake, as outlined in the Grafton, Massachusetts Open Space and Recreation Plan 2007 (LINK)
Page 79 of the plan is the ACTION PLAN MAP. One of 12 action items listed in the plan is "Secure land along Silver Lake shoreline" – this proposed acquisition would preserve 10 of the remaining 30 acres around the northwest sector of the shoreline. The northeast, east, and southeast sectors are already preserved by the Town and the Land Trust.
Figure: Detail view of 2007 OS&RP for Silver Lake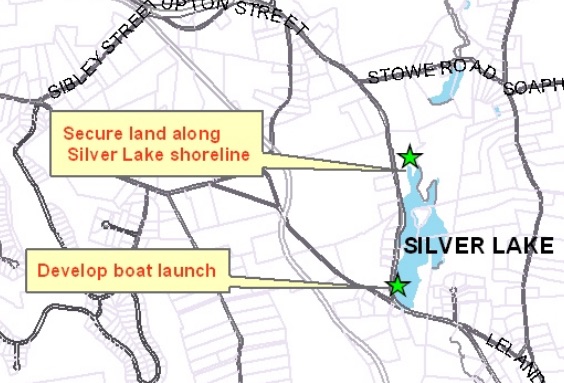 The strategy is to connect to these 4 parcels with the others in the future and form a nearly complete buffer around the entire lake and part of Miscoe Brook and Cider Millpond. The 4 parcels in this vote are part of only a few remaining open space properties left surrounding Silver Lake, and this is the deal on the table available to us. Those other properties can also be preserved in the future if they come up for sale out of Chapter 61B – the town would have the first right of refusal and can delegate that right to a land trust. This would complete the action item from the OS&RP.
CONCLUSION: These parcels should be acquired as part of the 2007 plan to secure land along the Silver Lake shoreline.
Funding is via NO NEW TAXES
If voters approve this (2/3 majority required), the land will be paid for using existing Community Preservation Act Open Space Reservation funds already in the bank to purchase 4 lots at the corner of Stowe Rd and Route 140. No new taxes will be created. The Community Preservation Committee (CPC) administers these funds which can only be used for:
Open space recreation
Historic preservation
Affordable housing
and no other purpose. CPC funding does not compete with other funding areas like schools, roads, or buildings - it is completely separate.
The warrant for the special town meeting is located on the town website here: LINK
Figure: snapshot of the text of Article 12


Please come May 13, 2019 at 7:00 pm and VOTE YES!!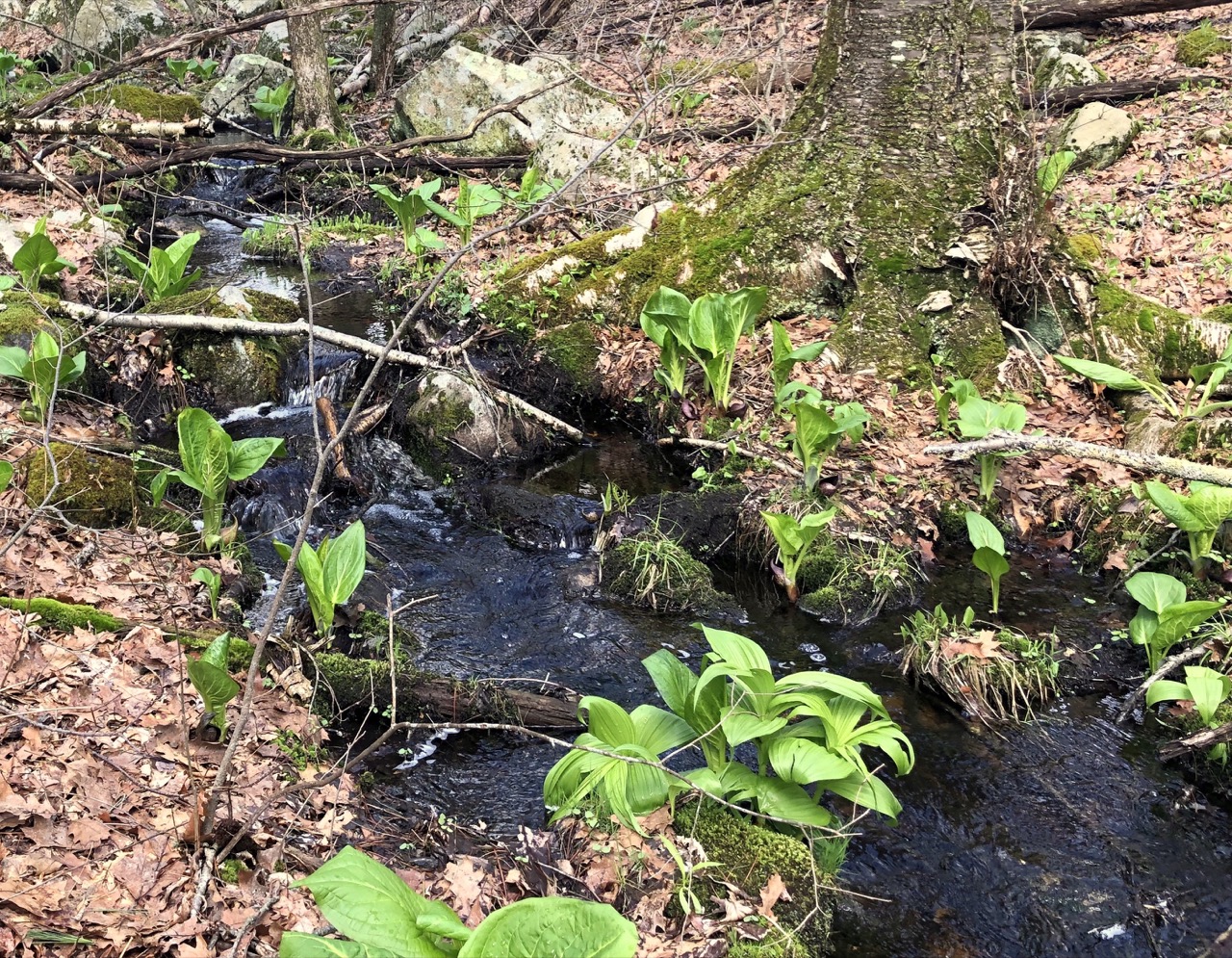 Note: here are GLT's Guidelines for Land Acquisition