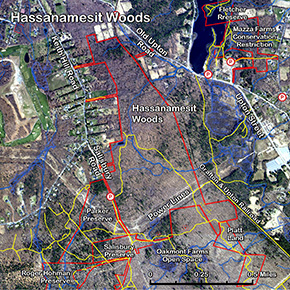 Click on the image to open an enlarged, printable aerial view of this parcel.
Description
Once the site of a 'praying Indian village,' Hassanamesit's complex history and remarkable resources include an archaeological record, documented ownership by Nipmuc Indians through the 19th century, and an evolving agricultural and natural landscape that reflects its human uses. Use their website www.hassanamesit.org to explore the past and the present. You will find histories, trail guides, and a wealth of background information - everything you need to make your visit to Hassenamesit Woods a rich educational experience.
Donor
The Trust for Public Land, the Grafton Land Trust, the Town of Grafton Community Preservation Fund, and others
History
Archeological tour.
The history of Hassanamesit includes its ownership by Hassanamisco Indians of the Nipmuc Nation, its vital role in the agrarian history of Grafton, and its 20th century transformation. A Cultural Resources Inventory located at http://www.hassanamesit.org/ identifies present-day features of the property that are evidence of its long and varied use.