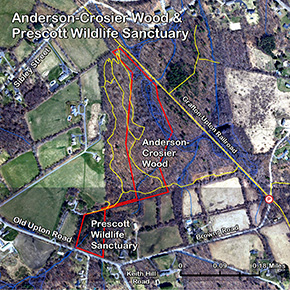 Click on the image to open an enlarged, printable aerial view of this parcel.
Description
The Anderson-Crosier Woods is a fifteen acre parcel on the eastern slope of Tower Hill. It connects to the 3.5 acre Prescott Wildlife Sanctuary on the south side and lies along the Grafton & Upton Railroad on the north east side. It is a short distance from Grafton Common, and located in a picturesque New England farming area.
The parcel consists of a steep wooded hill on the northwest side, more level wooded land in the south, and a flat wetland area on the east side. There are many large hardwood trees and a few large pines in the woodlands. Views from the trails on the hills are surprisingly open in winter - long view lines through the forest below can be had then.
Donor
Dick and Jean Anderson
Acquisition
In December 1996, Dick and Jean Anderson gifted approximately fifteen acres of forest land to the Land Trust. This land abuts the Prescott Wildlife Sanctuary on Old Upton Road. The gift was in memory of Dick's parents, Reginald and Polly Anderson and a dear, lifelong friend, Janie Crosier. Polly, Reg , and Janie were all strong advocates for preserving open space in Grafton. They wanted to keep our town a great place to live, not only for the wildlife to enjoy, but also for the towns people to explore.
History
The property was owned from 1937 until 1960 by Elizabeth Etherington, when it was purchased as part of a 60 acre parcel by Dick and Jean Anderson. Prior to that, the property was owned by Donald Kendall. There are many stone walls and a man-made well on the parcel. On the south side there are a few old apple trees, indicating there may have been an orchard there once.