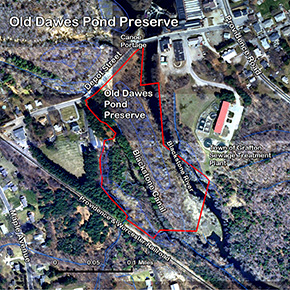 Click on the image to open an enlarged, printable aerial view of this parcel.
Description
This 14-acre parcel lies on the southern side of Depot St. in South Grafton, between the Blackstone River and the former Blackstone Canal. Currently there is no trail on this parcel.
Donor
Harry Kotseas
Acquisition
This parcel was donated by Harry Kotseas in 2004. The Grafton Land Trust set up a limited liability company to hold the property, in order to insulate the GLT from any liability associated with hazardous waste. Although no evidence of such was found, any property along the river, with its industrial history, is bound to be a bit uncertain. For instance, on the northern side of Depot St. there are remains of concrete posts that supported a pipeline for oil delivery. It ran from the railroad track to the mill and was used for unloading bulk heating oil from tanker cars.
History
Cardinal Nesting, Old Dawes Pond: Arthur F. Pellerin
(reference: oral account, Phil Gauthier) The Blackstone Canal fell into disuse by 1830, but water has continued to flow through that channel. In the 1920s a dam was built at the lower end of this section, making what was called Dawes Pond, after Harry Dawes who was supervisor of the mill and lived in the large brick house just across the canal. Two pump houses were installed with large cast-iron pipes running across the river to the white house across from the mill, where there were sand filters. The w ater was filtered and sent to the water tower at the corner of Depot St. and Providence Rd., now removed. It was used for the dye house, as well as the rest of the mill and perhaps the neighboring houses. The river turned the color of the current dye lot. The pumping equipment and pipes remain on the site, although the wooden houses that sheltered it rotted and were carried away by the 2005 flood. In the 1950s, J.J.O'Donnell, the owner of the mill at that time, raised special beef cattle on this property. Concrete posts and wire fencing from that time remain along the canal edge of the property. The current vegetation therefore dates from the time when the grazing was stopped, presumably about 1960.