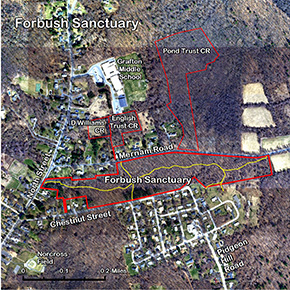 Click on the image to open an enlarged, printable aerial view of this parcel.
Description
This land is an important example of how land donations can dramatically preserve both natural and human environments. At one time, this land was an important connection between the historic Grafton Common and the nearby farm district. It now acts as an excellent environmental accent on the charming historic homes of North Street off Grafton Common. It is also a great place for a family walk, and maybe you can explore as Mrs. Ogg had intended. Mrs. Frances Ware (McGarry) Ogg, the donor of this land, wrote in a letter to GLT president Joe Tancrell on Oct 1, 2005: "I know everyone will enjoy picking the blueberries as they have for years and the children can make trails, as always, and have fun roaming around playing games."
Donor
Mrs. Frances Ware (McGarry) Ogg
Acquisition
The Forbush Sanctuary was highly developable land on North Street given with incredible generosity to the GLT by Mrs. Frances Ware (McGarry) Ogg. At the Forbush Sanctuary Dedication on August 13, 2005 Roger Hohman explained that this donation exemplifies how "Our efforts to preserve Grafton's land and history goes on from one generation to the next."
Mrs Ogg was a long time resident of Grafton, living at #4 Merriam Road and later #40 North Street. The preservation of this parcel was part of her wish for Grafton to have a "Green Corridor."