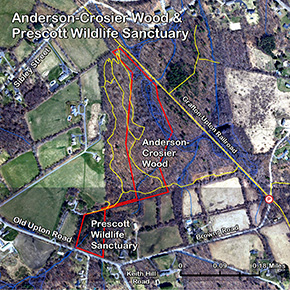 Click on the image to open an enlarged, printable aerial view of this parcel.
Description
This 3.5 acres of woodlands and wetlands has no trails but can be accessed from Old Upton Road. On the north side, it has a common boundary the Anderson-Crosier Woods.
Donor
Prescott Family
Acquisition
The Prescott Preserve was donated to the Grafton Land Trust in 1967/8 by John and Lenis Prescott. It was the Trust's fourth property.
History
This parcel had been in the Prescott family since 1906 when they purchased it as part of a farm from John W. Beatty. The farm was known at that time as the Bearfoot Farm and earlier as the William Fiske Place. When one of the barns on the adjacent property to the east was being scraped for repainting a few years ago, the inscription "Bearfoot Farm" in large black letters was discovered above the front doors. Painting of that area was stopped and the inscription is currently visible fron Old Upton Road.
When donated to the GLT, it had two structures - a garage and a childrens' play house. The garage was torn down and removed shortly after the GLT acquisition. The play house was refered to variously as a Gnome House, an Elf House, and a Fairy House. It was later moved to the backyard of a family on Keith Hill Road, where it was restored at least once It eventually decayed and was disposed of. No pictures of it are known to exist.
Contemporaneous Board records indica te the property had abundant Poisen Ivy and that several work parties were held in the 1970s to remove some of it and to clean up the property.