Trail Description
Bundled Hiker, Lori Muhr
The trailhead is located across from #120-122 Brigham Hill Road to the right side of the open field at the stonewall break. Access here is for pedestrians only. Please note that vehicle or trailer parking is not recommended on Brigham Hill Road at this access point. Alternatively, access can be obtained from Potter Hill Meadows near the top of Potter Hill Road where parking is available. Look for the pullout on the right side of the road.
Access to the trails is gained from the lower fields behind the shed. There are several trail loops within the Preserve itself with options that lead to the trail network on other properties. The southern trails are more hilly terrain with a rocky footing, while trails on the northern side are rolling on firmly packed earth.
When visiting these parcels, please respect the posted regulations.
No motorized vehicles are allowed on Grafton Land Trust Properties or Conservation Restrictions!
It's currently Mud Season.
Until it dries up, we ask that you please refrain from biking, horseback riding, or even walking, on muddy trails.
Erosion caused by trail traffic during mud season causes irreparable damage, creating ruts and permanently exposing rocks and roots.
Please read
this notice
and watch this site for timely updates.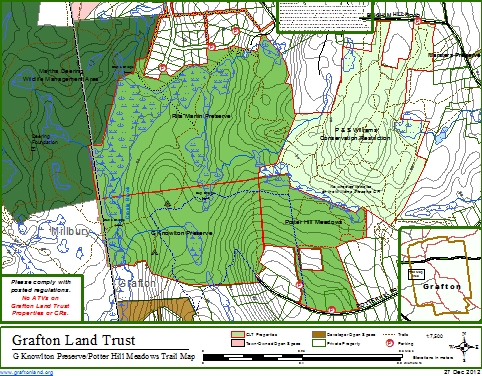 Printing instructions
The maps print on letter-size paper. Print the trail maps using the Adobe
Acrobat plug-in print button (on the lowest tool bar on the top border of the
browser window). Choose Page Scaling: Fit to Printer Margins and check
Auto-Rotate and Center.