Trail Description
An eager explorer!
Entering from a beautiful stone entrance on North Street, this winding path leads parallel to Merriam Road. The path has been exceptionally well maintained by an Eagle Scout and is great for kids and adults alike. After about a mile into the trail, you can either take a left to connect with Merriam Road, or stay right and continue on for a scenic loop-back.
When visiting these parcels, please respect the posted regulations.
No motorized vehicles are allowed on Grafton Land Trust Properties or Conservation Restrictions!
It's currently Mud Season.
Until it dries up, we ask that you please refrain from biking, horseback riding, or even walking, on muddy trails.
Erosion caused by trail traffic during mud season causes irreparable damage, creating ruts and permanently exposing rocks and roots.
Please read
this notice
and watch this site for timely updates.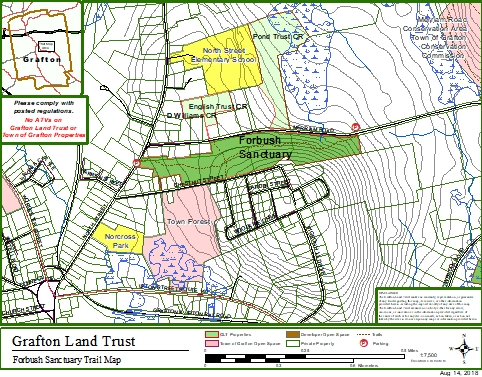 Printing instructions
The maps print on letter-size paper. Print the trail maps using the Adobe
Acrobat plug-in print button (on the lowest tool bar on the top border of the
browser window). Choose Page Scaling: Fit to Printer Margins and check
Auto-Rotate and Center.