Trail Description
From Keith Hill Road follow Salisbury Road to the entrance for Parker/Salisbury Preserves and the Hassanemessit Woods. A trail winds down an old historic roadway into these preserves. Extending through forest land and interrupted by a clearing for power lines, a series of wide trails may be used for hiking, cross-country skiing, and horseback riding. After passing through quiet Parker Preserve pine knoll you will cross the McNamara Brook Tributary and eventually come upon quarry pits and rubble. A crude shelter also offers the hiker a bit of respite near the quarry pits.
When visiting these parcels, please respect the posted regulations.
No motorized vehicles are allowed on Grafton Land Trust Properties or Conservation Restrictions!
It's currently Mud Season.
Until it dries up, we ask that you please refrain from biking, horseback riding, or even walking, on muddy trails.
Erosion caused by trail traffic during mud season causes irreparable damage, creating ruts and permanently exposing rocks and roots.
Please read
this notice
and watch this site for timely updates.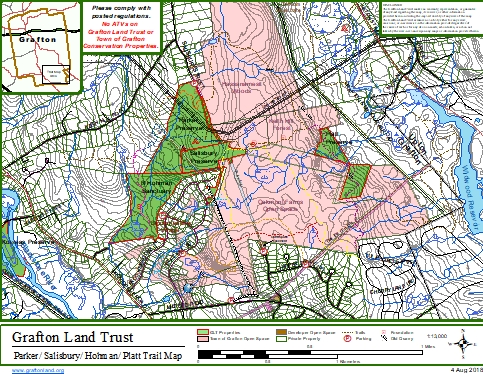 Printing instructions
The maps print on letter-size paper. Print the trail maps using the Adobe
Acrobat plug-in print button (on the lowest tool bar on the top border of the
browser window). Choose Page Scaling: Fit to Printer Margins and check
Auto-Rotate and Center.